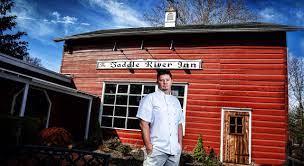 The Red Meat Lover's Club will explore a night bourbon, fine cigars and the over consumption of prime dry aged beef with Ferio Tego
Come join us at the Saddle River Inn for a night of indulgence, food exploration and pleasure for your palate. The night will include the finest selection of bourbons and a variety of the rarest steaks.
Guests will enjoy delicious food offerings prepared by Chef Jamie Knott and beef provided by Pat LaFrieda Meats.
Additionally, Michael Herklots of Ferio Tego will be offering a selection of cigars provided by Casa De Montecristo.
SADDLE RIVER STEAKHOUSE ROLLS AGAIN!
The event will begin with a grand assortment of passed meat offerings following by a formal dinner. Weather permitting we will have our cocktail hour outside will enjoying a Ferio Tego cigar.
Guests will enjoy a "salad" course (meat), followed by a family style Prime Ribeye steak with a variety of delicious side dishes. Dinner will conclude with a little something sweet.
We will offer 3 special tables outside for outdoor seating for all night smoking throughout the dinner.
The bourbons will be the offerings of Buffalo Trace.
A pair of Ferio Tego cigars provided by Casa De Montecristo (included)
The welcoming cocktail will be a barrel aged old fashion. All tables will have unlimited buffalo trace bourbon. We are also featuring single barrel blantons, wellers, and finishing with Pappy Van Winkle aged 10 years.
Every guest will take home a Saddle River Steakhouse/ Red Meat Lover's Club Glencairn (whiskey tasting glass) that will serve the Pappy Van Winkle.
Limited VIP ticket will also include a special Japanese A5 course and special red meat lover's club event only cigar 2 pack.
Special Datejust Blue Faced Rolex raffle will be offered this event! (picture below, brand new)
You do Knott need to be present to win. Value $15,000.
1 ticket $200
3 tickets $500
8 for $1k
Red Meat Lover's Club will be raising money for Human Needs Food Pantry, we conduct a silent and live auction of this amazing charity.
About the cause
Human Needs Food Pantry
Since 1982, the Human Needs Food Pantry has provided food, clothing, and other services to people in need who live in Montclair and neighboring communities in Essex County. Our diverse client base includes families and singles who are elderly, disabled, home-bound, unemployed, or underemployed (working poor). Eligibility is determined using federal guidelines, which base need on income.
Please note we will have special all night smoking tables set up outside. To request one please email sos@redmeatloversclub.com