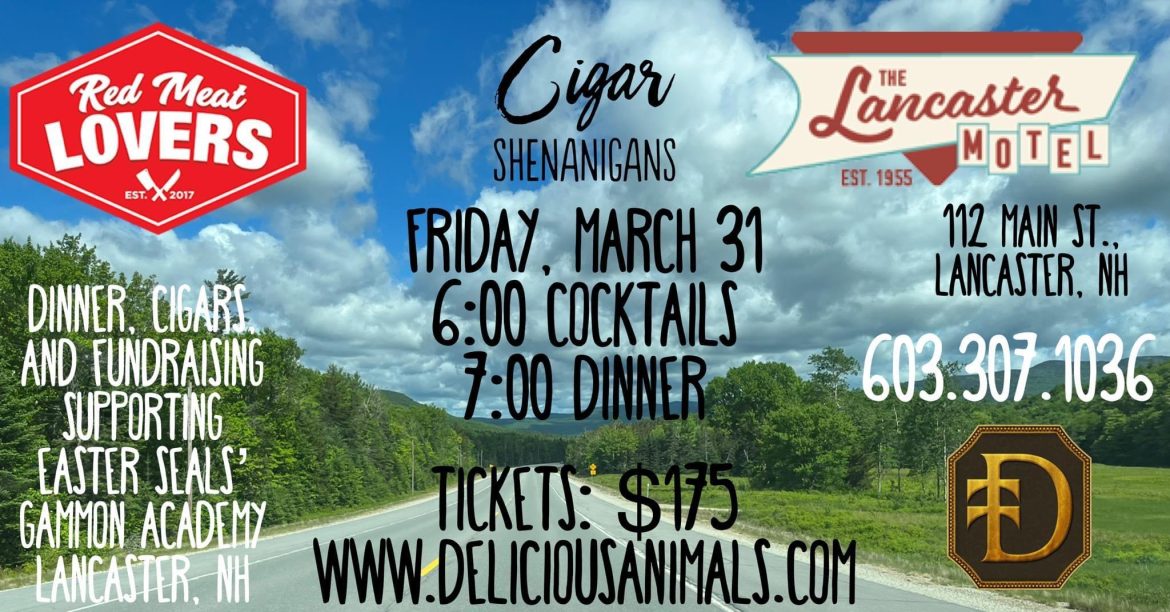 This dinner will change your life. Saka will woo you with cigar, The Secretary of Steak will feed you and we do it all for Easter Seals.
Cigar Shenanigans called the Secretary of Steak of the Red Meat Lover's Club and had one inspirational word
…..historic!
This dinner will be epic and historic.
The dinner will be fun! The food will be heavy. The laughter will be loud.
In Red Meat Lover's Club fashion we will have a live, slient and raffle for the charity partner of the evening Easter Seals, all profits from auction will be donated to them.
The Menu…..(subject to be meatier)
Sexzchef Bacon Tree
Passed
Smash burgers with cheese and grilled onions
Short rib sliders with cheddar
Fried Chicken tenders on red velvet waffle
Pastrami Rueben Egg Rolls with Chinese mustard
Meatballs on a stick
Salad Course
Pigs in a comforter served wellington style served on top of one piece of arugula
Main Course
Carving station of Ribeye and Filet Mignon
Mac and Cheese
Rosemary Fingerling Potatoes
Melted Veggies
Dessert
Bread Pudding with Buffalo Trace White Chocolate Sauce
Butter Belly Chocolate Chip Sea Salt Chunk Cookies
About Easter Seals https://www.easterseals.com
Easterseals is proud to be an organization that advocates for societal and systemic equality for all people, no matter what disability or racial background.
The Intersection Collective provides resources for students, parents, and the community so all can reach their full potential.