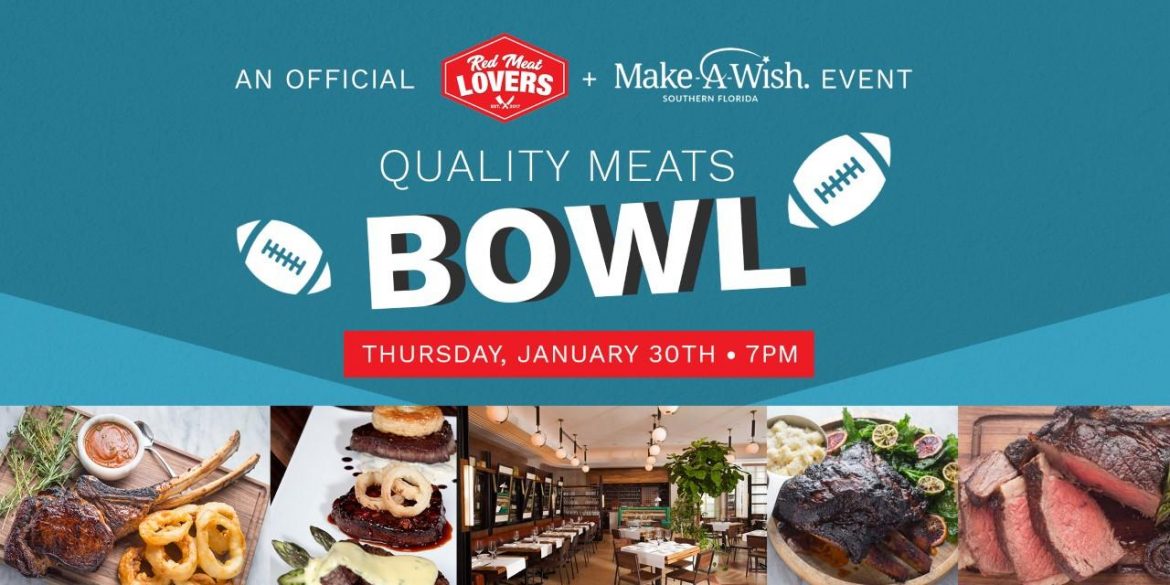 An Official Make- A- Wish Southern Florida event, we will have a complete takeover of Quality Meats South Beach (epic)
Once in a lifetime, once in generation the stars line up in a perfect order and such a time is January 30th, 2020 Red Meat Lover's Club and Quality Meats will come together in a perfect order and present The Official Make-A-Wish Southern Florida "Big Game" party.
Complete immersive experience of steak, cigars, bourbon, charity and beyond.
Apple Insurance, our health insurance specialist is our HEADLINING Sponsor.
You will be greeted by epicness and this theme of all things amazing will carry you all night.
La Flor Dominicana will be curating an open cigar bar for this special night. All included in your ticket.
We will taste everything Quality Meats has to offer, we will smoke everything our favorite cigar company has to offer, the curated bar by will be open for our enjoyment.
Nobody will eat better this evening. Nobody will have a better time.
Make-A-Wish Southern Florida will be our charity partner for this special event. We have partered with them many times but never this grandly.
Special live, silent and raffles will be had for this amazing cause. 100% of all auction proceeds curated by the club will be donated to Make_A- Wish Southern Florida. 20% of all consigned items will be donated.
Tickets will sell out!
United In Causes,
The Secretary of Steak
Without the below Partners In Prime we are nothing (Shop Local)
Michael Alexander...Bank of America …Residential Morgage NMLS #56761
Scott Storick ……Principal Financial Group …life insurance
Ken Mordechai Diamonds East International Jewelry and Watches (wholesale prices to RMLC)
Richard M Davidson Totality Chiropractic chiropractor and wellness center . Nicest guy ever
Lee Cohen personal injury lawyer 1800CallLee
Matthew H Maschler residential real estate and matthewMania president of epic
Ryan Boylston 2TON creative agency
Van Kirk & Sons Pools & Spas pools and hardscaping
Scott Zankl EXCELL AUTO GROUP exotic cars and our "go to" charity support item. Thank you for the Rolls Royce dreams
561 Signs & Printing our printing specialist
Jarred Smoke Allstate Insurance, property insurance to the stars (and the secretary of steak)
Rick Jultak Marc FineShawn Ellen Apple Insurance and Financial your personal health insurance specialist
Smoke Inn Cigars Abe Dababneh you are amazing.
Douglas Rudman, Rudman Law Group …..criminal lawyer https://www.flatriallaw.com
Nathan E. Nachlas, MD Nose and Sinus Institute of Boca Raton , Plastic and Reconstructive Surgery of the nose, sinuses and face www.drnachlas.com
Jimmy P's Butcher Shop, official meat supplier of RMLC https://www.jimmypsbutchershop.com Do Not get tastier then our Waygu #7 Australian Beef! Epic is the starting point on this meat.
Robert Schneider www.anytime-doctor.com The Secretary of Steak's doctor. Conceirge Services 24/7 individualized care. Does not get better then when you need a doctor you gotta a doctor
Tim Beasley Gent Row Custom Clothers , if they can get the Secretary of Steak in a suit, they can get anyone.
find us at
www.rmlclub.com