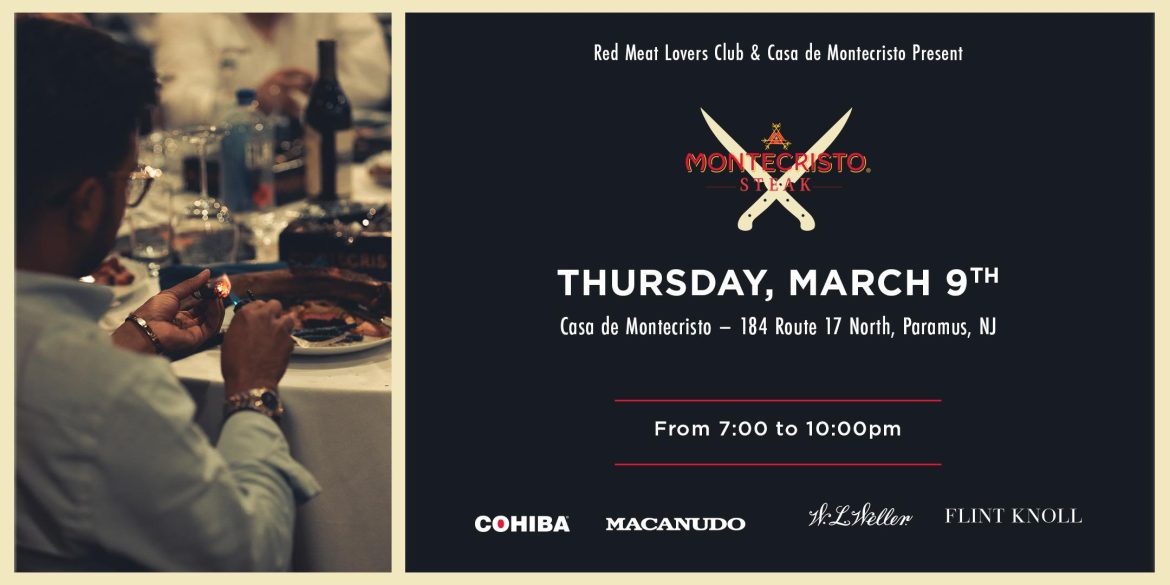 The best chefs in New Jersey with the iconic bourbon Weller and the legendary Cohiba represented by Sean Williams all for George Snow Fund
The Secretary of Steak and Casa de Montecristo have come together for the latest offering of Montecristo Steak.
This time the Commander in Beef is bringing his chef friends….
As a club we will be raising money for George Snow Scholarship Fund….this amazing organization gives over $25 million in scholarships to amazing children around the country (we love them). This will be the first event to raise for our newly formed scholarship to offer a student to go to culinary school.
Chef Ariane Duarte of Top Chef fame/ Chef Jamie Knott of Saddle River Inn/ Chef Jarrett Seltzer of BXJ and Chef Tina Marcelli of Marcelli Formaggi unite to create an over the top culinary experience.
Menu…..passed to start
Chef Jamie ….Mushroom Spring Roll with XO sauce Chef Ariane turkey, gravy stuffing arancini Chef Jarrett mini crock pots of chili (spicy and sassy) and Dry Aged Sliders with fancy Marcelli cheese
Stationed Chef Tina wheel of parm pasta
We sit….
To Start
Tina's Meat and Cheese on a stick
Then
BXJ's Best Caesar Salad Ever. (like not normal good)
Then
Entree
Chef Jamie's Swagyu Australian Wagyu Filet Steak (sliced nice)
Sides
Chef Ariane's broccolini/ black garlic /truffle butter
Chef Ariane's loved potatoes
Chef Jarrett's Brussel and Melted Leeks
Dessert
Chef Ariane's Croissant Bread Pudding with Weller Bourbon Sauce
What are we drinking?
The beverage feature , the iconic Weller bourbon
Every guest will start with a Weller Old Fashioned
Casa de Montecristo will be offering Weller on consumption with different expressions and cocktails
The Wine
Flint Knoll https://www.flintknoll.com Words from them……We craft world-class Cabernet Sauvignon wines that can be enjoyed every day with family and friends. We have a world-renowned winemaking team with Philippe Melka at the helm, who brings over 30 years of winemaking experience from wineries in Bordeaux, France and Napa Valley, California.
The Cigars
Each guest will receive 2 cigars by General Cigar, presented by special guest Sean Williams of Cohiba; Weller by Cohiba and Macanudo Estate Reserve made with tobaccos aged in Flint Knoll Cabernet barrels.
Like the cigars, the rarity of the evening must be experienced in person.
In Conclusion
Like these cigars, the rarety of the evening must be experienced in person.
Will this be the best Montecristo Steak we have ever done? We will try!
Video of an dinner we have done with Casa De Montecristo….TOO MUCH FUN