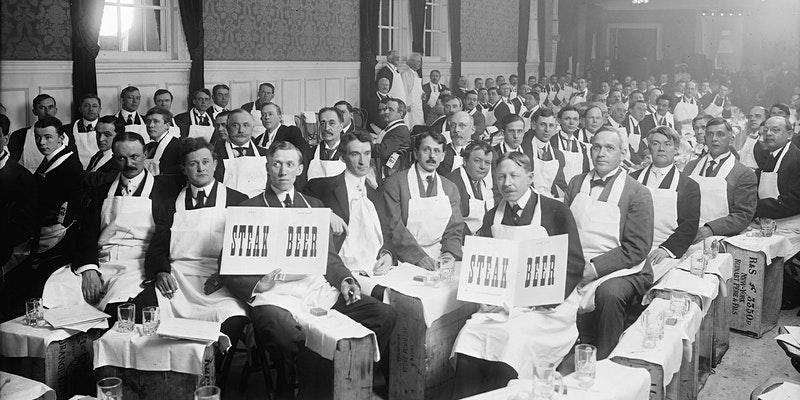 Prime + Proper Beefsteak with Red Meat Lover's Club. No utensils, no stopping
Steaksman, we turn back that clock 100 years and we will BEEF.
Beefsteaks were initially with small groups of people gathering in rustic taverns or dingy cellars where, sitting on crates or stools, they would sing, tell stories, eat steaks, and drink ale with abandon.
Ok, we will have bourbon in a luxury setting
UNIFORMS WILL BE PROVIDED FOR ALL PATRONS
In these "dungeons," etiquette was set aside.
No knives or forks were allowed
(we will allow chopsticks but only one per person for stabbing the meat purposes)
The participants ate tender morsels of beef steak, accompanied by gravy-sopped slices of bread, with their hands, wiping the grease on large napkins or aprons.
Prime + Proper will be grilling incredible steaks ….grilled slab bacon, and one type of vegetable MONSTER baked potatoes with enough butter it would give a cardiac doctor "movement", and other items that will be spoken about in hushed tones for years to come.
The life of the party at a beefsteak used to be the man who let out the most ecstatic grunts, drank the most beer, ate the most steak, and got the most grease on his ears, but women do not esteem a glutton , and at the contemporary beefsteak it is unusual for a man to do away with more than three pounds of meat and twenty-five glasses of beer.
Until around 1920, beefsteak etiquette was quite rigid knives, forks, napkins, and tablecloths never had been permitted; a man was supposed to eat with his hands…
This one will be a epic scene filled with Red Meat Lovers and Grizzle Grease and maybe a few cigars.