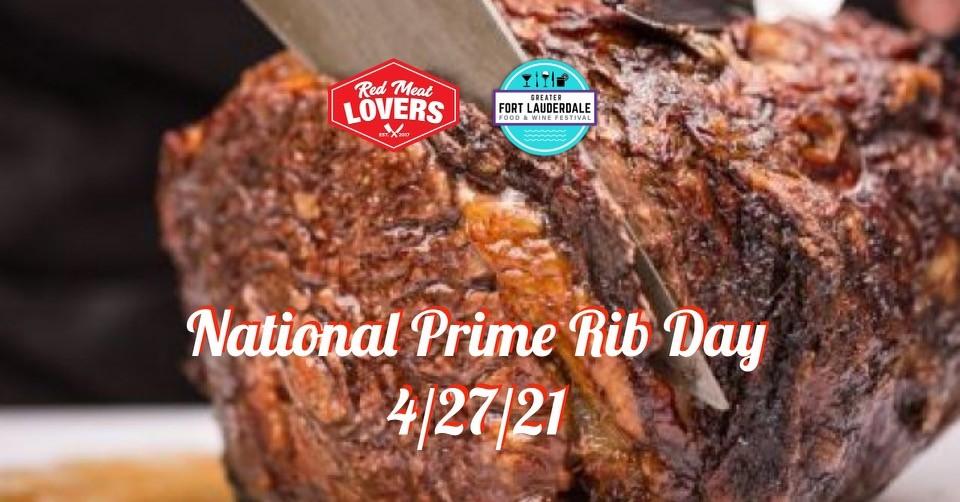 We come together in celebration of the quintessential steak of meaty delicious the Prime Rib. This dinner will be a gathering of the finest.
About this Event
The Greater Fort Lauderdale Food & Wine Festival and the Secretary of Steak of the Red Meat Lover's Club are combining their mutual love of Prime Rib on National Prime Rib Day for a celebration of this iconic dish!
The evening will start with the offerings of Sistrunk Marketplace in a private and intimate 40,000 sqft setting. Starters for the evening will be provided by Chop Shoppe Meat Provisions, Nellie's Southern Table and Fuoco Italian Soul Food & Pizzeria.
The main event of the evening is 'The Florida Prime Rib Royal Rumble Championship'!!! Two iconic steakhouses will compete for your vote that will crown the Ruler Prime Rib Supremacy.
The first Prime Rib presentation will be prepared by Tropical Acres Steakhouse, featuring Certified Angus Prime Beef.
The second Prime Rib presentation will be prepared by Runyon's of Coral Springs, featuring Runyon's House Specialty Roasted Prime Rib of Beef.
To complete the evening, Kasai & Koori will be creating some dessert memories with their Asian inspired creations.
Throughout the meal we will enjoy open bar featuring Sistrunk's own Shady Distillery featuring 12 Mile Rum, Shady Vodka and newest, yet to be released or named, Bourbon. Other incredible beverage offerings will be available through cash bar.
As always, we will host a live, silent auction/raffle to benefit Joe DiMaggio Children's Hospital. All auction/raffle proceeds will be donated to this amazing hospital.
IN ADDITION
We will also be offering an amazing Prime Rib meal for delivery in Palm Beach and Broward county on April 27th…. the meal will be ready for reheat with no cooking needed and delivered with a bottle of Fort Lauderdale based Wandering Wines. The menu for this at-home dining experience will feature:
-Caesar Salad for 2
-Prime Rib dinner served in a full pan of Au Jus, Root Vegetables and Yukon Gold Potato with Fresh Herbs.
-Grilled Vegetables
-Chocolate Lava Cake
-1 bottle of Wandering Wines Cabernet Sauvignon
The meal will be delivered by Potions In Motion, all packed for easy reheat if necessary.