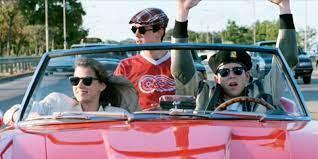 The Hagerty Drivers Foundation unite for a night of amazing food, cocktails, and to page homage to the most famous movie car of the 1980's!
Abe Froman, the sausage king of Chicago and Evan Darnell, The Secretary of Steak of the Red Meat Lover's Club combine powers to create a unique night for Hagerty Garage + Social's charity Driver's Foundation.
The night will feature the iconic Ferrari from Ferris Bueller's Day off…. the pics will be worth the ticket!
We will be consuming best in class food created by Sexzchef of Potions in Motion inspired by the classic movie.
Sexzchef Bacon Tree
Save Ferris Meatballs on a stick shift
Think Abe Froman's Sausage Sandwich station
Windy City Chicago Dogs served in half
Chicago Italian Beef Sandwich emporium
Tavern Style Pizza (thin crust, unlike that pizza caserole they call deep dish)
Sliced steak carving station inspired by Gene & Georgetti
Da Bears Truffle Mac and Cheese
Smashed up Ferrari potatoes and veggies
Chez Quis's Snooty French Coissant Bread Pudding
Casa De Montecristo will be providing a RMLC "cigar buffet", please enjoy them at our event.
This epic night of beef, a night of auction for Hagerty, a night of coming together over the love of cars, the love of delicious nights of camaraderie, and most importantly….
TO SAVE FERRIS (and the kids)
About the foundation
https://driversfoundation.org/
The Hagerty Drivers Foundation is a 501(c)(3) non-profit organization dedicated to protecting, preserving, and celebrating automotive heritage at its highest levels.
We believe that cars are an important part of our history and culture. Loved by millions, enthusiast vehicles and the lifestyle that revolves around them are an important part of our cultural fabric as a society and provide significant economic impact.
We envision a future where all vehicles regardless of age, power source or mode of operation coexist on public roadways.
Can't come? You can still make a difference
https://driversfoundation.org/donate